Lace cookies are quick to make, and require few ingredients.  It is just as easy to make them gluten free if you substitute cornstarch for the wheat flour in the recipe.
In a 2-cup Pyrex measuring cup, put the following ingredients – then microwave on the setting you would use for 1 cup of coffee, until the butter melts and the mixture bubbles.
2 Tablespoons butter
1 1/2 Tablespoons corn syrup
2 Tablespoons dark brown sugar
Remove from the microwave, then stir in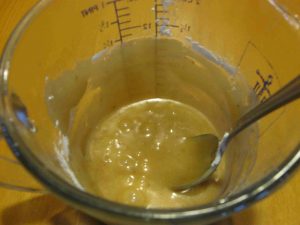 Deposit the batter in teaspoon-sized circles on parchment paper lined baking sheet.  Be sure to leave 3 inches between each cookie, and make only about 6 cookies at a time if you plan to roll them in cylinder or cone shapes because you will have to work quickly.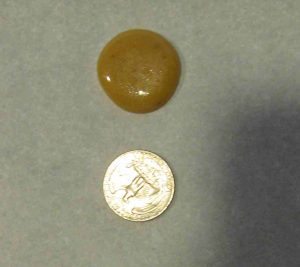 Bake the cookies 6 minutes, until spread out, brown and bubbly.  Watch them carefully to make sure they don't burn.
Remove the sheet from the oven.  If you are going to make cylinders or cone shapes, allow them to cool about 15 seconds and then start working with them.  Otherwise, wait about a minute and the parchment paper will be easy to peel right off the cookies!  As you can see from the picture, these cookies spread quite a lot.  I have included a quarter in the photos so you can compare the size, uncooked and cooked.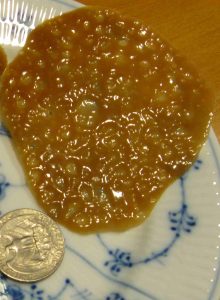 and these cookies are delicate like glass. Here are about 7 of them stacked on a Heath Ceramics coffee cup – (cup color is Moonstone.)