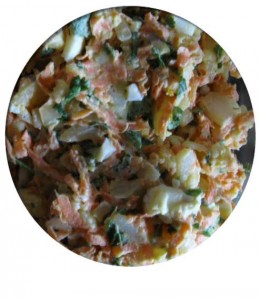 A tasty gluten free potato salad with hard-boiled eggs, carrots and onion.  The cooking is done in the microwave to cut down on the heat in the kitchen.
This is based on the potato salad shown at this webpage: http://www.sachikocooking.com/english/en0106prt.htm, altered to use less mayonnaise and much less sugar.
3 red bliss potatoes – if they are about the size of a tennis ball, the three potatoes together will weigh about a pound.
3 large carrots, grated on the large holes of a box grater
1 cup very thinly sliced onion
1/2 teaspoon table salt
2 eggs
1/4 cup coarsely chopped flat-leaf parsley
Sauce:
1/4 cup gluten free mayonnaise
1 teaspoon gluten free ballpark mustard
1/4 teaspoon freshly ground pepper
1/2-1 teaspoon sugar
1 teaspoon fresh lime juice
Mix the shredded carrots, sliced onion and salt thoroughly and set aside.  Let this rest while you do all the other preparation, so that the salt can draw water out of these veggies.
Clean the potatoes, pierce each one and remove the eyes, microwave them using the potato setting on your microwave.  Set aside to cool, then peel and chop.
"Hard-boil" the eggs in the microwave, adding 1 teaspoon water per egg.  We use a device called a "Micro Egg" for cooking eggs in the microwave.  With this device, it took slightly longer than 1 minute at 100 power to cook the two eggs in one Micro Egg. Set the eggs aside to cool, then dice.
Squeeze the water out of the salted carrot/onion mixture by putting these salted veggies  in a kitchen towel and squeezing firmly.
Put the squeezed carrots and onion in a bowl. Add the chopped cooked potatoes, diced eggs, parsley.  Mix the sauce ingredients in a separate bowl, then fold the sauce in to the carrot-onion-potato-egg-parsley.  Adjust the flavors, chill and serve.
0