Macaroni and cheese lovers, don't despair.  You can have perfectly fine macaroni and cheese without wheat.  Use your favorite gluten free recipe, and the BioNaturae organic gluten free macaroni.  Take care to read the package and make sure you don't accidentally purchase the wheat variety.
We have tried a lot of different brands of gluten free pasta. For macaroni and cheese, Bionaturae is the way to go.  The product is made of rice, potato and soy.  It is quite expensive for pasta, but it is worth the money.  We have no affiliation with the company and they haven't even sent us samples, we just like the product!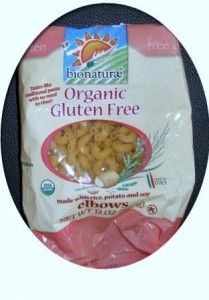 For mac and cheese, cook the product slightly less than the package calls for.  For example, the package says cook for 11 minutes, so for mac and cheese cook it for 10 minutes.  No need to rinse this product.  Just follow a gluten free mac and cheese recipe.
0