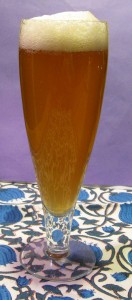 At gfzing.com we have tried all the commercially available gluten free beers.  Our favorites were those made by Green's – there are three that are imported in to the U.S., and in our area they generally sell for a mind-boggling $7/bottle.  This was the motivating factor behind a successful attempt at home brewing gluten free beer, the techniques of which are outlined here. A reasonable glass of gluten free beer (in the weissbier or weiss beer style), can be made for less than a dollar a bottle after start-up costs.  The beer is similar to the St. Peter's Sorgham Beer from Suffolk England.
The major difference between most  fine artisanal beers and gluten free beer is that the ordinary beer is made with malted barley and wheat, and the gluten free beer cannot contain either barley or wheat.   Therefore, the gluten free brewer must rely on other malted grains. The ingredients for gluten free beer are available from home brewing shops.  The two tricky items to locate are the sorghum syrup, which lately we have had to purchase online from morebeer.com, and the gluten free brewing yeast.  The actual link for purchasing the syrup is here.
To make home brewed beer, you should first read some of the fine homebrewing websites and chats on the net, and learn the basic technique.  You are going to make a sort of soup called wort, and then ferment this soup with yeast in a large container with an airlock.  When it has finished fermenting, it gets bottled with a little "priming sugar" added to each bottle to cause another fermentation in the bottle – this produces the carbonation.  An excellent discussion with photos is available at WikiHow.
These instructions are provided here for use by adults of legal brewing age.
Recipe from gfzing.com for about 48 twelve ounce bottles of gluten-free beer requiring 2-3 hours of cooking time and about 7 weeks from starting the process to pouring:
Ingredients:
Malt Base – 6lb Sorghum Extract
Specialty Grain –
1lb Flaked Maize
1/2lb Whole Sorghum (for toasting)
1/2lb gluten free Oats (for toasting) – optional
Specialty Sugar – 1/4lb Belgian Dark Candi Syrup (this is a product that is worth the trouble of obtaining – it can be ordered online)
Hops –
1 oz UK Northern Brewer Leaf hops (bittering)
Yeast- Notthingham Yeast (check for gluten free status on the package)
Other-
1/4 tsp Irish Moss
3/4 oz Coriander Seeds
3/4 oz. Bitter Orange Peel (in the event of a beer emergency, you can use the zest of one fresh orange)
8oz Malto-dextrin (a weird, nearly flavorless material that makes a smooth "mouth-feel")
15 black peppercorns
Other: Priming sugar (about 1 cup for five gallons) dissolved in a couple of cups of water
Instructions:
Toast Whole Sorghum & gluten free Oats in the oven for 20 minutes @ 375 F.
Grind toasted Sorghum & Oats using a grain mill that is only used for gluten free grains, and then combine these with flaked maize.
Maize, Oats and sorghum go in a muslin bag in one and a half gallons cold well water in a large pot – large enough to hold at least 3 gallons.
Heat to 160F, hold at this temperature for 10 minutes.
Remove grains (the muslin bag full of grain will have swelled considerably) and discard.
Add Sorghum extract & Belgian Dark Candi syrup to the grainy water, stir to dissolve. If you have no Belgian Dark Candi syrup you may be tempted to use molasses.  Our advice – don't use molasses because it will impart a distinctive molasses flavor to the finished beer.  If you must substitute for the Dark Candi syrup, try dark brown sugar or panela.
Bring to boil. ALERT: at this point, there are 60 minutes left in the cooking process. All the times listed next to the ingredients below are the total cooking time for that ingredient. When we say "set the timer" that is to indicate the time between steps.

Start proofing yeast in a cup of water – Nottingham yeast (marked gluten free).
While grainy water and sugars boil, add the following for the minutes indicated (this is a standard beer recipe convention, and you have to study on how beer is made so that this series of instructions will make sense):
1 oz. Northern Brewer Hops (60 min)
Set Timer for 45 minutes
When timer goes off, start adding the following ingredients and cook them for the amount of time indicated:
1 ounce Cascade hops (15 minutes)
Set timer for 5min, when timer goes off, add
1/4  tsp Irish Moss (10 minutes)
Set Timer for 5min, when timer goes off, add
1/2 lb. Malto-dextrin mix with cold water first (5 minutes)
3/4 oz coriander seeds (5 minutes)
3/4 oz bitter orange (5 minutes)
15 black peppercorns(5 minutes)
After 5 more minutes, all the cooking is done.
The total cooking time, from the time an ingredient is added to the end of the cooking is show in parentheses next to each ingredient. This is how beer-making recipes are generally written. The instructions about "set the timer for X minutes" are our own addition and show the time between steps. So, the Northern Brewer hops go in, then you wait 45 minutes and add the Cascade Hops, then wait 5 minutes, then add the Irish Moss etc. The last 4 ingredients all go in at once, and they only cook for the last 5 minutes of the boil.
Pour wort through a fine strainer  in to 2 gallons of cold water in a sterilized 6 gallon fermenter.
Add cold water to increase to 5 gallons total volume in the fermenter (it helps to mark the fermenter at the five-gallon level so you know when you have added enough water).
Cool to 72 degrees F.
Measure the starting specific gravity and record.  It should be around 1.040.
Add  the  proofed yeast, give a stir, cover the fermenter and add an airlock.  This mixture should ferment for two or more weeks. This beer will not bubble as vigorously as a barley or wheat beer – it is a gentle fermentation and does best at around 70 degrees.
After the primary fermentation, rack off the beer in to another vessel, add the dissolved priming sugar, give the mixture a vigorous mixing, and bottle in sterilized bottles. Cap the bottles with new caps (you cannot re-use caps).  The beer will be ready to drink in about 3 weeks.