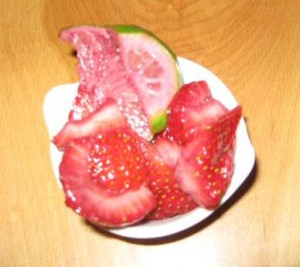 It is nearly 100 degrees outside, and humid, so what better use of some dry red table wine than a tasty cold sangria to drink with a leisurely dinner of potato salad?  The cinnamon in this recipe lends a certain richness and depth to an otherwise light-hearted drink.
We followed along with and embellished upon the ideas expressed at the interesting Spanish website La Receta de La Felicidad that lists Webos Fritos among its ancestors.  These folks add salt and pepper to their sangria – brilliant!  We added lime and triple sec.
Combine and chill:
1 liter (1 wine bottle) of red wine – sangiovese is a dry red
1 fresh lime, washed carefully and finely sliced (peel and all)
12 ounces of fresh strawberries, washed carefully and sliced
3 TB of gluten free orange liqueur (a gluten free triple sec) or 3 TB sugar
1/2 – 1 teaspoon ground cinnamon
1/4 – 1/2 teaspoon black pepper (depending on how spicy you like)

1 pinch of salt
1 Tablespoon vanilla (we make our own by soaking split vanilla beans in potato vodka for months and months)

Mix together fruit and wine and chill completely (about 2-4 hours).  Add the spices and vanilla. Serve in wine glasses with plenty of the berry slices in each glass.  The limes are there for flavor – you don't necessarily eat the slices of lime.
We would have taken a photo of the glass of sangria, but all that was left was the fruit! Eat the fruit with a spoon.
According to the new food pyramid (which is now a plate), the combination of a potato salad made with grated carrots and hard-boiled eggs, and a glass of this sangria with fruit, would satisfy most of the requirements except for the mysterious "dairy" circle.  That dairy circle could be taken care of with a simple slice of manchego cheese.  And done! – a balanced meal.