Making your own custom ketchup is easy-peezy!  At gfzing.com, we made a careful study of the available recipes for homemade ketchup, and concluded that the ingredients in most tomato ketchups are pretty much identical.  The spicy ketchup variant here is gluten free and can be served with fries, meatloaf, Shepherd's Pie, hamburgers, hash browns, corned beef hash or any other dish that requires ketchup.
We tasted the typical store-bought ketchup which is very smooth, mostly sweet, with heavy tomato and celery seed notes – sort of like sweetened and thickened V8 juice! We also read Malcolm Gladwell's interesting discussion of why there are so many mustards and only one ketchup.  Afterward reading that, we thought that we would not like a ketchup substitute, but we were wrong.  This ketchup is better than bottled ketchup!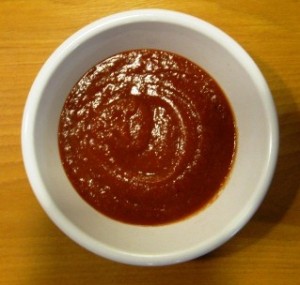 We started with a Saveur recipe for homemade ketchup. We replaced half the tomatoes with sweet red peppers, added sweet potato and dates for sweetening and thickening, and switched out their brown sugar with some agave syrup and gluten free fruit jam, to reduce the amount of refined sugar in the recipe.  We changed the amount of spices, and upped the hot peppers.  The final ketchup has some chutney-like flavors.  It has more flavor than bottled ketchup, and far less refined sugar.  It provides dynamic tension for your meatloaf!
Ingredients:
14 0unces diced or petite cut canned tomatoes
3 long sweet red peppers, stemmed, seeded and sliced
1 cup water
1/2 of a large red onion, peeled and chopped
1 clove garlic, peeled and sliced
1 dried cayenne pepper, stemmed and sliced
2 Tablespoons agave nectar
1/3 cup cider vinegar (we make our own cider vinegar out of homemade New England apple cider, from local apples)
1/4 teaspoon celery seed
1/4 teaspoon dry mustard
1/4 teaspoon ground allspice
1/4 teaspoon ground ginger
1/4 teaspoon ground black pepper
1/8 teaspoon ground cloves
1/8 teaspoon ground cinnamon
1 1/2 teaspoons salt
2 Medjool dates, pitted and sliced
1 1/2 ounces of peeled sweet potato, chopped –  a piece of sweet potato about the size of an extra-large egg
2 Tablespoons plum jam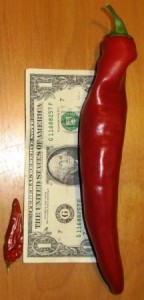 The Steps: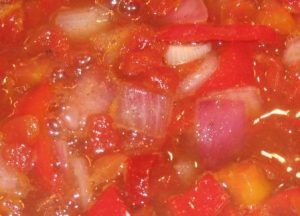 First, put all the ingredients in a saucepan and cook over medium heat for about 45 minutes, stirring occasionally,  until reduced by half.  The material will start to stick to the bottom of the pan.  Be careful that it does not burn.
When cooked, cool and then puree the mixture thoroughly in a blender or food processor.  Taste, and adjust the salt, sweet, and sour flavors as necessary. That's it!  Serve warm or cold.  Store, covered,  in the refrigerator.  This is not a "preserve" since it has a low sugar content and low salt content.  It cannot be kept indefinitely.  Make sure all your ingredients, including spices, are gluten free.