A bento box is a lidded Japanese lunch box with many sections.  Making a bento box lunch is a snap for the gluten free community.  By filling each little section of the bento with a different food, you can make an attractive, well-balanced meal without a great deal of extra work.  You can keep your bento simple or go wild!  The choice is yours.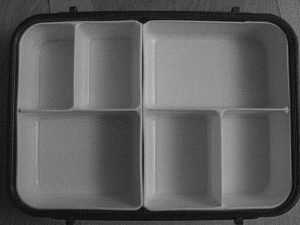 Provide both a fun lunch and a lovely reminder of home for every member of the family – line up several bento boxes on the counter, fill them up assembly-line fashion, and you're done!  Don't forget to make one for yourself as well, and take proper precautions for food safety, sending along an icepack if necessary.
A gluten free bento box could include:
Fresh, Pickled or Dried Vegetables & Fruits: carrot sticks, green peppers, cherry tomatoes, cucumbers, celery, steamed veggies, dilly beans or pickles (drained and patted dry), apples, grapes, banana (a thick slice with the peel still on so it doesn't turn brown), melon, mango, pineapple, kiwi, oranges, berries, fruit salad, raisins, dried fruit, nuts etc.
Protein:
Grilled GF meats or poultry sliced on the diagonal, a deviled egg, cheese cubes, a couple of pieces of homemade sushi, the possibilities are endless and can include meatballs, fish cakes, smoked fish, seasoned tofu etc.
Attractive tea sandwiches cut to fill the space in your bento box – Choose gluten free bread and savory fillings such as GF tuna, chicken or egg salad, cheese, GF deli meat or peanut butter and jelly or honey.  You may have to trim the corners of the sandwich to fit it in to a bento box section – you can nibble on these corners while packing the box!
Starch:
GF Crackers, rice, fried rice, and seasoned rice formed in to a cake, roasted root vegetable (potato, sweet potato etc.)
A GF sweet: A cookie (cut to fit), brownie, cake or muffin, gummy bears, gorp, a miniature candy bar – any of these sweets can go in one small section of the box.
Supplies:
Bento boxes are available at various Asian grocery stores, kitchen supply stores, and Amazon.com.
Turn any box in to a bento, dividing a larger section up by adding aluminum foil or silicone reusable cupcake liners.
More ideas for bento construction:  www.justbento.com , www.lunchinabox.net and www.cookingcute.com/recipes
This bento article is from Gf-Zing! (www.gfzing.com), celebrating flavor in the gluten free world!