A reader says:
I love your recipes.  …  I am looking for a  GF cookbook for a relative who needs fairly easy recipes, doesn't spend a lot of time in the kitchen and too much time in the restaurants. Do you have one?  Or can you recommend one?
Answer: Absolutely.  We can recommend cookbooks (and are hard at work on a Gf-zing! cookbook, seeking a publisher)!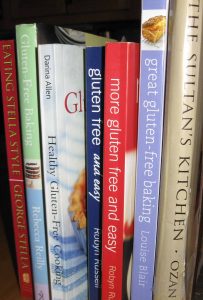 Making the switch to gluten free cooking is initially annoying and feels like deprivation, but your relative will eventually find that journeying to the parallel universe of gluten-free cooking presents an opportunity in disguise.  She will find that the complex flavors and textures of gluten free cooking are often superior to "wheatavore" cooking.  She will also see that the produce and meat sections of the grocery store are her favorite areas, and that there is very little reason to travel in to the cereal or bread aisles.
For simple GF baking, we like: Great Gluten-Free Baking by Louise Baker.  This British book relies on simple brown rice flour for many of the recipes. The superfine brown rice flour from Authentic Foods is the one we like best.  To use this book, your relative will need a kitchen scale – another excellent Christmas present for the home cook.  She should try baking the Victoria Sandwich Cake on p 124; the Lemon Drizzle Loaf on p. 54 , and the Cherry Crumble Muffins on p. 27.
For a general cookbook, Gluten Free and Easy by Robyn Russell is a good choice. Your relative could try the Quinoa Tabouleh on p. 30;  the Quinoa, Eggplant and Chickpea Salad on p. 32; the Pesto, Lamb and Sweet Potato Salad on p. 98; the San Choy Bau on p. 106; the Pistachio and Apple Cake on p. 150 (add some vanilla and salt); the Lemon Tea Cake with Lemon Butter on  p. 153.
Another fine general cookbook: Healthy Gluten-Free Cooking by Darina Allen and Rosemary Kearney. Your relative might like the Buttermilk Pancakes on p. 41 (make sure she gets flavorless tapioca flour – we like the one from Authentic Foods); the Fish Cakes with Parsley or Garlic Butter on p. 95; The Fruit Scones on p. 123 (grate cold butter in to the dry ingredients and mix by hand); the Pizza Base on p. 149 is excellent for deep dish pizzas.  Use it in a cast iron skillet.
And a third general book that uses no grains at all: Healing Foods: Cooking for Celiacs, Colitis, Crohn's and IBS by Sandra Ramacher might also fit the bill. Your relative could try the Mini Chicken Satays with Peanut Sauce on p. 43; and the Apple and Blueberry Crumble on p. 165 (it uses almond flour for the crumble). No grains, no gluten, no refined sugar and no lactose in this book.
Also, although The Sultan's Kitchen by Ozcan Ozan does contain recipes with gluten, most of the recipes are gluten-free. A few favorites include: Rice Pilaf with Chickpeas, Green Lentils and Caramelized Onions, (we used lentil orzo), Sea Bass Poached with Herbs and Raki in Parchment, (we used ouzo instead of raki, and your relative would need to make sure whatever licorice liqueur she used was gluten free), Stewed Lamb Kebab with Creamy Garlic Mashed Potatoes.
And finally, although Eating Stella Style by George Stella is pitched to low-carb dieters trying to lose weight, it has many, many excellent recipes that are gluten-free.  Your relative will need to be sure that the spices and meat products she uses are gluten-free, and she doesn't have to substitute Splenda for sugar.  This cookbook is a find for the gluten-free community.  (The picture on the front of the book is a little goofy, and it is geared to weight loss.)
Thanks for inquiring, and there will be a Gf-Zing! cookbook coming, but not in time for Christmas 2010.