For serious gourmet gluten-free cooking, you will want a good mortar and pestle.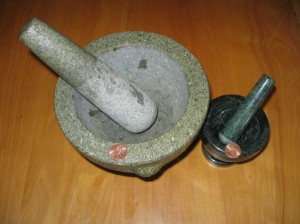 What is a mortar and pestle?  It is an antique tool, found in many cultures around the world, for grinding or smashing food in to a paste.  It performs the function of a modern food processor, but uses arm power instead of electricity.  Using a mortar and pestle is good exercise and provides a platform for meditation.  You don't need to pay to use the gym or go to a meditation class if you use a mortar and pestle regularly.
Mexican mortar & pestle arrangements (molcajete) are made of volcanic stone – both the mortar and the pestle have rough surfaces.  Thai people often use a ceramic mortar with a wooden pestle. The mortar and pestle we use is made of granite – both the mortar and the pestle – and because it is made of rock, it is very heavy.
Don't bother buying the beautiful little 1/2 cup mortar & pestle sets that are sold in health food stores –  they may cost less than $15 and look beautiful, but they hold less than half a cup and are not really functional for cooking.  Even grinding a handful of peppercorns in one of these little toys is an annoying exercise in futility.  As you poke around with the tiny pestle, the peppercorns will leap out of the bowl, scatter over the counter and on to the floor, leaving you with nothing but frustration, having had no exercise, in a state of distress, with no more ground pepper than you started with.
Grinding spices with a hefty mortar and pestle, however, is a satisfying experience.  The aroma of the pepper teases your nose with the sensations of cooking yet to come.  Your arms become stronger.  Your mind fills up, not with memories of work left undone, bills yet to be paid, or annoying conversations from your place of work, but with spiciness, fine memories, the act of grinding the pepper, and the promise of a good meal.
The minimum size for a functional mortar and pestle would be about 3 cups (total width at the top = 7″ with a 6″ bowl width), or 5 cups if you want to make Thai green papaya salad.