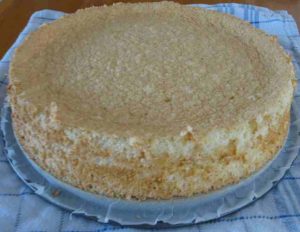 German tortes can have a cake base with a cream filling, and maybe fresh fruit on top.  Here is how to make a gluten free German sponge cake (this one is made with almonds and cornstarch) that will work well as the base for a torte with a cream filling.
Preheat oven to 300 degrees.  Line the bottom of a 9 inch spring-form pan with parchment paper, then grease the sides of the pan with butter. Set this prepared pan aside.
You need 3 bowls – like Goldilocks and the Three Bears! One great big bowl, one medium sized bowl, and one little bowl.
You need a kitchen scale to weigh the ingredients.  Be sure to zero out the scale each time you measure something.
3 eggs, separated
3 Tablespoons cold water
75 grams Sugar
50 grams Cornstarch
65 grams Almond meal (Bob's Red Mill makes the one we used)
1/2 teaspoon gluten free baking powder (measurement is for American baking powder.  If using German baking powder, use slightly more.)
Beat the egg whites with the cold water in a large bowl until stiff.  In the medium sized bowl, beat the egg yolks until light lemon colored and fluffy.
Beat the sugar in to the beaten egg whites, then fold in the beaten yolks.
In a third little bowl (capacity 2 cups), mix the cornstarch, almond meal and baking powder. (The volume of cornstarch and almond meal will be about one cup combined).
Fold the cornstarch/nut  mixture in to the egg mixture.  The mixture will be light and fluffy.
Carefully distribute the batter in to the prepared spring-form pan.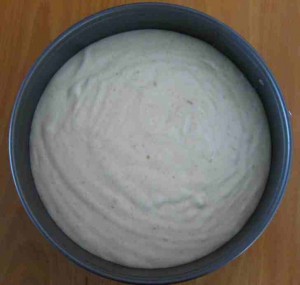 Bake for 35 minutes at 300 degrees until the cake springs back to the touch. Remove from the oven, slide a knife around the sides to loosen the cake, then remove the sides.  Allow the cake to cool completely. Remove the cake from the pan.  You can cut it horizontally in to two layers using a bread knife, if you need 2 layers.
Make sure your ingredients are all gluten free!