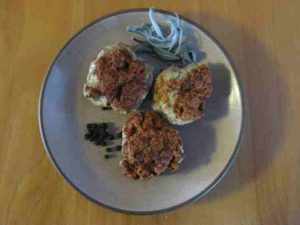 2 egg whites (or 1 large egg)
1 Tablespoon of GF dijon-style prepared mustard or other GF mustard
1 pound of pork rib roast (boneless) or boneless country-style ribs
1/4 cup of GF bread crumbs (GF rolls, or GF bread of any kind will do – 2 end slices of Udi's for example)
2 Tablespoons water
2 Tablespoons minced fresh sage
1 or 1.5 teaspoons of salt
1/4 teaspoon ground coriander
1/4 teaspoon fresh ground pepper (or more, to taste)
Put everything in the food processor and process until smooth. Make into patties of the size you prefer and fry in 2 Tablespoons of hot oil for 3-5 minutes on each side until cooked through. Use a non-stick pan.
These gluten free sausage patties are delicious and so much better than the store-bought sausage!
Note: if you don't have fresh sage then use 1 Tablespoon of dried sage. If you want to use turkey or chicken in place of the pork, you can. Turkey or chicken sausage made this way is quite good, not too dry, due to the egg whites and mustard.
If you are serving food to gluten-free friends, check carefully with the manufacturers, or on the reputable internet-based gluten free food lists, to make sure that all ingredients are gluten free. Or, ask your friends which brands are safe for them to eat.