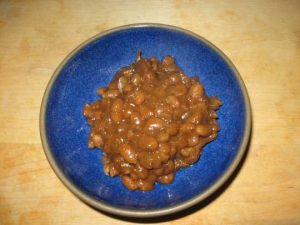 These gluten free, simple baked beans are sweetened with maple syrup and maple sugar and have minimal ingredients.  They bake for a long time while your slow-cooked meat is cooking on the grill. Despite the small quantity of pepper they are surprisingly spicy.
Note: you add the salt to dried beans at the end of the cooking, so the beans will not toughen.
12 ounces dried flageolet beans (soaked overnight or pressure cooked for 2 minutes and allowed to sit until the pressure reduces naturally, or boiled for 2 minutes and allowed to sit for 1 hour.)
Drain the soaked beans and put them in an ovenproof casserole with a lid.  We use a Corningware casserole that hold 2.5 liters or quarts.
Add to the drained beans:
2 Tablespoons ghee (clarified browned butter)
1/3 cup dark maple syrup
1/3 cup maple sugar
1/2 teaspoon black pepper (less if you don't like spicy food)

1 large onion, peeled and diced
1 1/2 teaspoons French's mustard (verify that this product is gluten free at the time of purchase)
2 Tablespoons of gluten free chili powder
4 cups boiling water
Cover and bake at 350 for 2 hours, remove the cover and continue to bake until the liquid has reduced to a thick sauce – another 2 hours or more is not unusual.  Stir occasionally.
When the beans are done, add 1 Tablespoon of table salt and stir thoroughly.