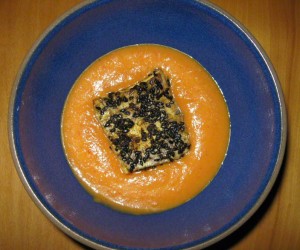 The inspiration for this dish from www.gfzing.com was a trip to the Garden Grille in Providence, Rhode Island.  They make truly delish vegetarian food, much of which they will also prepare gluten free.  This is recipe is NOT one of theirs, it is just inspired by their cooking.  I did not have a chance to try their sesame-crusted tofu, unfortunately.
The soup here is done in the microwave oven, for quick, efficient dinner preparation.
It is easily adapted for vegetarians and vegans – just omit the fish sauce and adjust the salt.
For the Soup:
5 ounces peeled Spanish onion, diced
1/2 ounce (2 cloves) garlic, peeled and diced
1 TB olive oil
3 ounces red bell pepper, diced
3 carrots (about 6 ounces), peeled and chunked
3/4 cup rich coconut milk
1 cup water
2-3 teaspoons gluten free fish sauce (omit for vegetarians)
2 teaspoons gluten free Thai Red Curry paste
1 TB currant jelly
salt to taste (1/4-1/2 teaspoon)
To Fry the Tofu:
1 package of extra-firm tofu, drained and slice the short way in to four slices, then cut the other way to make 8 squares about 3/4 inch thick.
1 teaspoon homemade curry powder (see recipe on this site)
2 TB black sesame seeds
2 TB peanut oil
1 teaspoon sesame oil
To make the soup:
In a 1 1/2-2 quart microwavable casserole dish (such as Corningware), place the chopped onions, chopped garlic and 1 TB of oil. Cover and microwave on high for 5 minutes.  Allow to cool for a few minutes before removing the cover (to avoid steam burns).
To the cooked onions and garlic in the casserole dish add the rest of the soup ingredients from the red bell pepper through the currant jelly.  Cover and microwave until the carrots are tender, about 10 minutes.  Allow to rest a few minutes before you remove the cover, to avoid steam burns.
Use a stick or immersion blender to puree the soup. Season with just a little bit of salt to taste. Adjust the sweetness. Set aside.
For the Tofu:
Mix the curry powder and sesame seeds and pat the mixture on to one side of each of the squares of tofu.  Heat the oil and sesame oil in a large, heavy frying pan.  When hot, add the tofu squares, seed side up. Fry over medium heat, undisturbed for 4 minutes.  Salt the tofu squares.  Use a spatula to turn the tofu squares and fry the other side undisturbed for 3 minutes. Salt the other side.  The frying will crisp the tofu, rendering it golden brown.
Remove the fried tofu from the pan.
To Serve:
Reheat the soup briefly and serve 2 squares of fried tofu, seed side up, on each serving of the hot soup.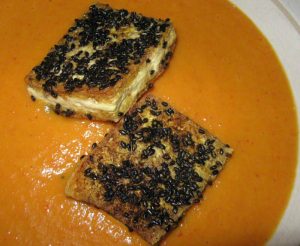 Serve with lime wedges, and a salad made from chopped arugula, fresh mint, orange juice, olive oil, gluten-free mustard, salt and pepper.