This rich, delicious dish is based on one for North African-Influenced Lamb Shanks with Couscous by Emeril.  We have added more vegetables, and removed all the gluten.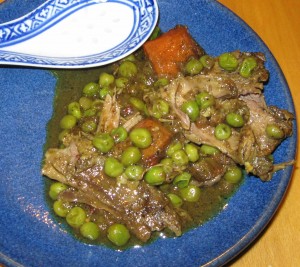 2 1/2 pounds lamb shanks (if these are American hind quarter shanks you will have 2 shanks)
1 teaspoon salt
2 teaspoons ground black pepper
1 teaspoon turmeric
Sprinkle the spices over the shanks and fry them in 3 Tb of olive oil until browned on all sides.  Remove the shanks to a large covered casserole that can go in the oven.
In the same pan where you fried the shanks, add:
1/2 teaspoon ground cinnamon
1 teaspoon ground cumin
1/2 teaspoon ground ginger
1/2 a dried cayenne pepper, minced, or 1/4-1/2 teaspoon cayenne pepper, ground
Stir fry the spices for 30 seconds, then add:
1 1/2 cups coarsely chopped spanish onion
2 large carrots, peeled and cut in 1 inch chunks
1 sweet potato, peeled and cut in half
Stir fry the vegetables until the onion is a little bit golden, then add:
1 Tablespoon chopped fresh garlic (about 4 cloves)
Stir fry until the garlic is fragrant only – about 30 seconds. (Emeril's recipe called for stirring the garlic for 30 minutes, which must be a typo)
Add:
2 cups rose wine
1 cup chopped tomatoes (about 1 large tomato)
4 cups chicken stock – if you are reconstituting this from bouillon mix, make sure the mix is gluten free and use less than is called for on the package – to avoid over-salting)
Juice of one orange
2 strips of orange zest (you can remove the pieces when the braising is complete)
Bring to a boil, then add the vegetable-wine-tomato mixture to the lamb shanks in the other pan.  Cover the pan. Place in a 350 degree oven for 2-2 1/2 hours until the meat is falling off the bone.  Check occasionally to see if more liquid is required. Remove from the oven, and remove the pieces of orange peel.
Add:
1/2 pound frozen green peas
Cook on top of the stove until the peas are just barely cooked.
Gfzing.com likes to serve with steamed artichokes for dipping up the delicious sauce.
If you want a gluten free substitute for the "couscous" in the original recipe, substitute 1 cup pre-rinsed quinoa and 2 cups water for the couscous.  Microwave the quinoa and water, covered, for 8 minutes on high, then add the rest of the seasoning ingredients in Emeril's recipe and set aside, covered for about 10 minutes until the water is completely absorbed by the quinoa.