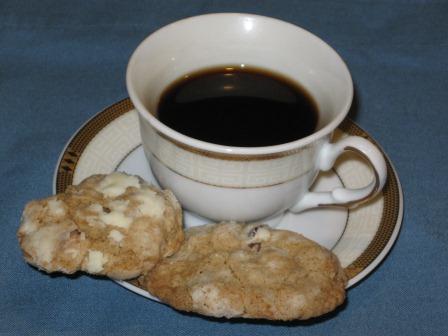 This is the most requested Gf-Zing! recipe ever! The cookies are crunchy, with a complex flavor and interesting buttery sugar coating.
Mixture A:
Cream together:
1 cup butter or gluten free soybean margarine, or a combination of both
1 ½ cups brown sugar, (For a very crunchy cookie use 1 cup turbinado sugar and ½ cup white sugar )
1 teaspoon GF Vanilla extract
Add, and beat well:
1 large egg

Mixture B:
In another bowl, mix together with a whisk:
1 teaspoon GF ground cinnamon
1 teaspoon GF ground ginger
1 teaspoon baking soda
1 teaspoon xantham gum
½ teaspoon salt
2 cups GF cookie flour mix
GF confectioner's sugar for rolling.
Combine mixture A with mixture B.
Add: 2 cups of top quality GF chocolate chips, 1 cup chopped walnuts (you can optionally also add dried cherries or dried cranberries.) Form 1-inch balls, roll in GF confectioner's sugar, flatten slightly, place on Silpat mat-lined (or parchment paper lined) cookie sheet and bake for 10-12 minutes at 375 F. Remove pan from the oven, let rest 5 minutes on pans before removing cookies from the pan.
Make sure that all your ingredients, including spices, are gluten free!
0