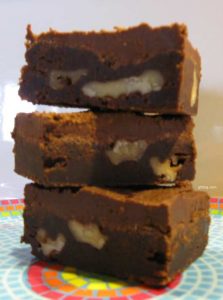 A gourmet gluten free brownie that is just like the best wheat brownie you ever had.
Use the absolute best quality gluten free chocolate you can obtain.  It is worth doing the website and company research to find the richest, darkest gluten free chocolate that is available.
For the brownies:
Melt the following in a small pot, then set aside to cool briefly:
1 1/2 sticks (12 ounces) unsalted butter
7 ounces bittersweet gluten free chocolate
3 ounces gluten free unsweetened chocolate
Place the following in a large bowl:
1 1/2 cups sugar
1 1/2 teaspoons vanilla or 1/2 teaspoon of Authentic Foods gluten free powdered vanilla
1/4 teaspoon salt
4 eggs
Beat the sugar/egg mixture with a spoon, then stir in the melted chocolate/butter mixture.
In a small bowl, combine
1 cup Authentic Foods GF traditional flour blend
1/2 teaspoon xantham gum
Mix the GF flour mixture in to the chocolate batter.  Stir just to combine well.
Stir in:
1 cup walnut pieces, sized according to your preference.
Line a 9 x 13″ pan with parchment paper leaving quite a bit up paper going up the sides (so that you can grab the paper later and pull the whole brownie unit out of the pan.  Pour and spread the batter in to the paper-lined pan and ease the batter out to the edges and corners of the pan.  Bake at 350 F degrees for 30 minutes.  Remove from the oven and cool completely before frosting.     Don't remove the brownies from the pan yet – frost first!
Frosting:
Melt in a microwavable glass dish:
6 ounces unsalted butter
4 Tablespoons milk (can be non-fat milk if you want)
Add:
4 Tablespoons (1/4 Cup) best quality gluten free cocoa powder
1 teaspoon vanilla
2 2/3 cups gluten free confectioner's sugar
Stir together with a kitchen spoon until completely smooth.  Because the butter is melted, the frosting can still be a bit loose or runny when you spread it, because the frosting will stiffen up later, as the butter cools and hardens. Spread the frosting on the brownies, then transfer the pan to the refrigerator to chill until firm.
To remove brownies from pan, just grab the edges of the parchment paper and lift. Transfer the paper of brownies to a cutting board and proceed to cut them.
Cut the brownies with a sharp knife.  To make clean cuts, occasionally run the knife blade under hot water then wipe dry with a clean towel.  Using a heated, clean knife will ensure a clean cut with no crumbs.
Make sure to use all gluten-free ingredients.  If you are using a wheatavore kitchen, ensure that the sugar container is not contaminated with flour by wheatavore cooking adventures.