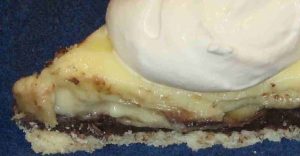 This delicious pie is based on one from The Best of Cooking Light (2000).  We have changed a few things and made it gluten free.  As cream pies go, it is relatively light.  For those of you who eat pie for breakfast, we maintain that a slice of this pie is nutritionally not very different from a bowl of sugary cereal with milk and sliced bananas.  So, by all means, eat pie for breakfast!
It is possible to make this pie and serve it in 4 hours – you have to work quickly and chill at each stage.  Chill the pie crust immediately after it is baked, add the chocolate layer and chill, add the bananas and custard and chill again.  In winter, we take advantage of a table on a screened-in porch for these chilling stages. The screens on the porch are necessary to keep squirrels out of the pie.
First, you will need a one-crust gluten free pie shell.  You can make your own using 1/2 of this recipe: Pie Crust Recipe. Roll out a crust and line a 9 inch Pyrex pie plate.
Prick the crust all over with a fork and pre-bake the pie crust for 10-12 minutes at 450 degrees (for this crust you don't need to use pie weights or dried beans to keep the crust from collapsing.)  In the event of a true pie emergency, you could use a Whole Foods gluten free pie crust from their freezer section.
Gather these ingredients:
For the chocolate part:
1 TB cornstarch
2 TB sugar
2 TB unsweetened gluten free cocoa powder
1/3 cup low-fat milk or gluten free rice milk
2 ounces semi-sweet or bittersweet gluten free chocolate (chopped coarsely)
Dash of salt
For cooking the custard:
2 TB cornstarch
1 cup of low fat milk or gluten free rice milk
1/2 cup sugar
1/4 tsp salt
2 large eggs
1 TB butter
After cooking the custard, mix these in:
2 tsp gluten free vanilla
1/4 cup (2 ounces) gluten free cream cheese (for dairy-free, omit this)

Other:

2 cups sliced ripe bananas (2 bananas)
Whipped cream, lightly sweetened and flavored with vanilla
You are going to layer up some thick chocolate paste which goes in to the baked pie crust first, then sliced bananas on top of the chocolate, then custard.  Chill for 2 hours or more, then serve with whipped cream!
For the chocolate part: Mix the cornstarch, sugar, cocoa, milk and salt  in a saucepan and cook, stirring constantly until the mixture thickens.  Add the chocolate and stir until it melts.  Spread this mixture over the bottom of the baked pie crust.
For the custard, get your immersion blender ready at your side in case you need it to correct custard disasters.  You basically have two choices.  You can mix the custard materials and cook over a boiling water bath, which takes more time and assures a lump-free custard, or you can mix the custard materials in a sturdy pot, cook over low heat, stirring constantly with a whisk, and if the custard curdles or looks at all lumpy give it a good blast with the immersion blender (taking care not to hurt yourself), adding a little heavy cream if necessary to loosen things up.  Either way works fine.
After you cook the custard mixture, while the mixture is still hot, stir in the vanilla and the cream cheese and mix thoroughly.  If you are making a dairy-free version, leave out the cream cheese.
Slice the bananas and put the slices on the chocolate layer, then spread the finished custard over the bananas.  Chill completely, slice and serve with whipped cream. There won't be a lot of left-overs.
Make sure all your ingredients are gluten free!
0