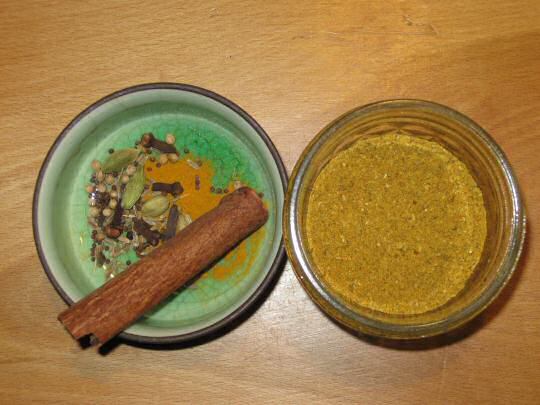 It is as easy to make homemade gluten free curry powder as it is to grind coffee!
With a little trial and error you can create your own signature gluten free curry powder!  We use a 30 year old coffee grinder to make ours from whole spices.  Once you make your own, you won't be able to go back to using store-bought curry powder. Also, your friends will want your recipe.
The Spices:
Make sure that whatever spices you add to your curry powder are gluten free. And, the fresher the spices, the better the flavor.
The Coffee Grinder:
Some recipes will advise you to buy a separate coffee grinder for making spice mixtures like curry powder, but we use one coffee grinder for everything – we have been doing it for decades. After using the coffee grinder for grinding spices, you can clean the coffee grinder using a toothbrush to loosen up ground spices and wipe the grinder clean.  If your coffee grinder is white plastic, the turmeric may turn the plastic yellow, but when you then revert to grinding coffee in the grinder the flavor of your coffee will not be altered.
What amounts to use?
At gfzing.com, we have analyzed a few recipes for homemade curry powder and provide the following table of formulas from some of our favorite cookbooks.  Note that the biggest variation occurs with the turmeric and the pepper.  Turmeric has a surprisingly strong taste, so experiment with it a little to decide how much to use.
Our favorite curry powder recipe comes from Robin Reilly's excellent book Gluten-Free Baking. We add a whole dried cayenne pepper to her mixture because we like our curry powder spicy. Robin Reilly uses a combination of roasted coriander seed, fenugreek seed, cumin seed, black mustard seed, cardamom seed, cinnamon stick, with added ground turmeric, ground mace, nutmeg, and cloves.  We add a whole dried cayenne pepper to her recipe, then grind it in two batches in the 30 year old coffee grinder.  After grinding the two batches, we mix the stuff together thoroughly and store it in a half pint Mason jar.
Another similar curry powder formula is to be found in Better Than Store-Bought by Witty and Colchie, originally published in 1979.  This is a unique cookbook which shows how to make a large variety of items from scratch.
A third example of homemade curry powder lives in another excellent do-it-yourself cookbook called Gifts of Food, by Susan Costner, published by Consumer Reports in 1984. Again, the list of spices is pretty much the same – varying amounts are used.
In this table, we compare these 3 recipes, demonstrating that indeed, the list of spices is pretty much the same but the amounts differ.  Fiddle with these spices and develop your own signature gluten free curry powder! Package it up nicely, and give it as a gift!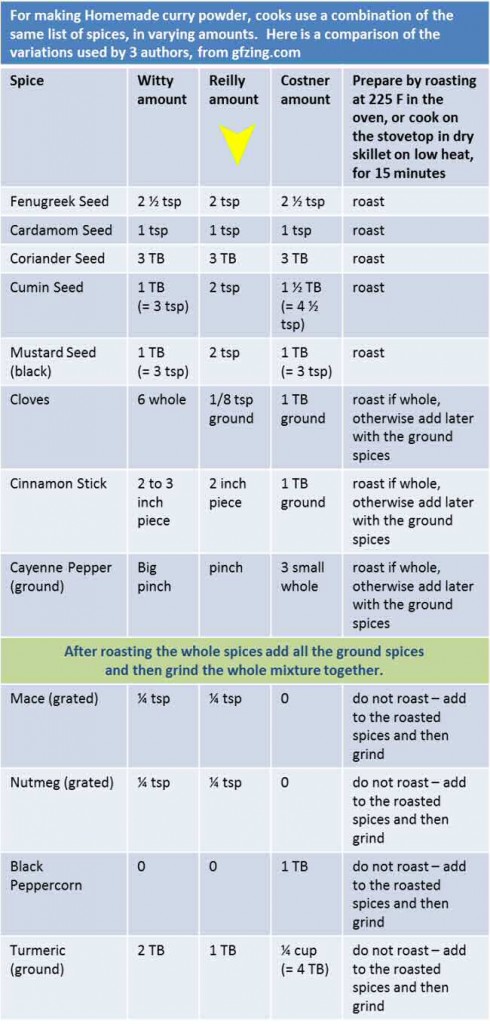 Try the curry powder in these recipes:
Curried Cream of Root Vegetable Soup
Creamy Lentil Soup with Curry and Chipotles
Rich Lamb and Cornish Game Hen Curry
3