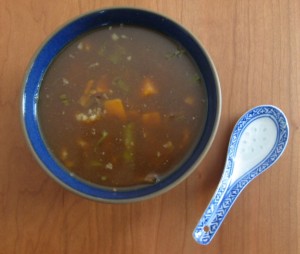 Loaded with vegetables, this simple, easy gluten free soup can be put together in under a half hour. Use other vegetables in place of the ones specified in this recipe – whatever you have available. Cruciferous vegetables (Brassicaceae family) like cabbage, broccoli, cauliflower, turnip, watercress etc. or quick-cooking greens like spinach are ideally suited to this type of soup.
Ingredients:
2 Tablespoons toasted sesame oil
3 cloves garlic, minced
1 Tablespoon fresh ginger, minced
5 scallions, cleaned and minced
2 quarts water
1/2 cup dried sliced shitake mushrooms
1/2 head of cauliflower, in flowerets
1 bunch (1 pound) asparagus, washed, tough end removed, sliced in 1/2 inch slices
1 large yam or sweet potato (about 1 pound), peeled and cubed
8 Tablespoons gluten free miso (we used South River 3-year Hearty Brown Rice Miso – check with the manufacturer's website for gluten free status)
black pepper
Simply heat the sesame oil, stir fry the garlic, ginger and scallions or onion for 30 seconds, then add the water.  Bring to a simmer, then add the dried shitake mushrooms, cauliflower, asparagus and yam or sweet potato. Simmer for 10 minutes until the yams are tender.  Stir in the gluten free miso paste, season with pepper and serve hot.
A surprisingly rich and satisfying vegan soup.
Double-check to make sure the miso paste you choose is gluten free.
0