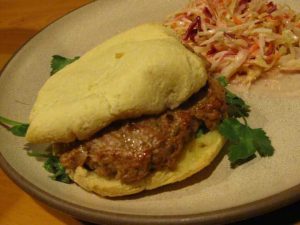 Read a Southeast Asian cookbook and you will likely come across a recipe for meatballs including baking powder.  Baking powder is an oddball ingredient for those of familiar with western meatballs, so I thought I had better give it a try.
I made two attempts.  The first, using a recipe from A Vietnamese Kitchen by Ha Roda, and the second using a chicken burger recipe from one of my very favorite new cookbooks, Poulet – More Than 50 Remarkable Meals that Exalt the Honest Chicken, by Cree LeFavour.  The recipes in this book are easily adaptable for the gluten free community.
Based on experimenting with a modified version of Cree LeFavour's Phuket Beach Cart Sandwiches, I am recommending the baking powder addition to meatballs and burgers for those of us who use low fat meats and poultry to make burgers.  The result is juicy and interesting! (I always grind meat or poultry when making balls and burgers; using good quality meat to start out with yields a tastier ground product, and you know for sure what went in to the bowl).
My instructions to grind your own spices may seem silly until you catch a scent of the amazing, lemony coriander blasting out of the mortar as you grind. It is worth the tiny moment of your time and the little bit of muscle that is required, just to have this aromatherapy experience.
Grind in a mortar and pestle:
1 teaspoon whole coriander seeds – Pow!
Put the ground seeds in a food processor and add:
2 pounds of boneless chicken thighs
1/2 or 1 dry cayenne pepper (LeFavour uses 2 or 3 habanero chilies but even 1 was too spicy for us)
1/3 cup gluten free fish sauce – check the label
1 Tablespoon sugar
2 teaspoons baking powder
1/2 teaspoon ground cinnamon – (grind some cinnamon stick in a mortar and pestle – such a sweet smell!)
Zap all these ingredients together in the food processor until smooth.  Shape 4 patties using wet hands.
This amount of mixture will yield four absolutely enormous burgers, each one almost 2 inches thick after baking.  I found it practical to make the four giant patties, put them on a parchment lined baking sheet and bake for 30 minutes at 350 degrees.  Check the interior temperature so it reaches 175 degrees in at least 2 places, then when the burgers are cooked through slice each one horizontally in half to yield 8 burgers.
LeFavour recommends serving the burgers on buns with fresh cilantro leaves (instead of lettuce) and a sambal mayonnaise, with a side of carrot and mung bean salad.
I used buns made from Pao de Quejo Brazilian Cheese bread dough (Chebe makes a gluten free mix that works well for these buns, each package yielding 4 buns that are 4-5 inches in diameter),  fresh cilantro, and a sauce made from equal parts of mayonnaise and gluten free Thai sweet chile sauce with a very small amount of gluten free chile paste with garlic.  Serve with a side of gluten free coleslaw.
LeFavour toasts the hamburger buns she uses, but instead we used the Pao de Quejo right out of the oven, split horizontally.
This is a delicious, juicy burger experience from a highly recommended cookbook – Poulet by Cree LeFavour!