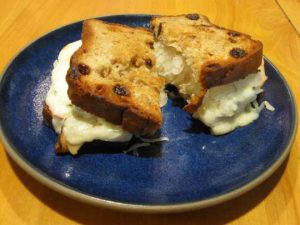 A craving for a gluten free Reuben Sandwich (Grill) sent me to the local supermarket in search of corned beef, sauerkraut, swiss cheese, dressing and gluten free "rye bread" since I have not made some.  Well, of course disappointment awaited, since they carry no gluten free corned beef at the store.  How is it possible to put wheat in corned beef?  It's meat, right?  Sliced meat.  Of gluten free rye bread, there was none.
A few compromises later, and I had a decent sandwich that had much in common with a Reuben sandwich.  The following is a very good sandwich in its own right, and the directions show how to obtain the melted cheese and hot interior of a fine sandwich, despite the remarkable insulating qualities of gluten free bread.
Ingredients:
2 slices Rudi's gluten free Cinnamon Raisin Bread
2 teaspoons butter
2 thin slices baby swiss cheese
2 thin slices gluten free deli barbecue chicken (check the label on the Dietz & Watson brand which at this writing was labeled gluten free)
Sauerkraut (check the status on refrigerated Ba-Tampte New Kraut which at this writing was labeled with these ingredients: Cabbage, Water, Vinegar, Salt, Sugar, Less Than 1/10 of 1% Benzoate of Soda, Sodium Bisulfite).
1 TB gluten free Thousand Island dressing (check the status of the Wishbone brand which at this writing was labeled gluten free.)
Melt the butter in a frying pan on medium low heat.  Put the two slices of bread in the melted butter to coat one side of each slice.  Turn off the heat and set the bread aside.
Drain 2 TB of the sauerkraut, place it in a microwavable glass dish and microwave for about 1 minute until hot. Set aside.
Put one slice of buttered bread, butter side down, in the pan.  Coat the top side of that slice with Thousand Island dressing. Lay the 2 slices of cheese and the 2 slices of chicken on top.  Cover with the other slice of bread, butter side up.
Turn the heat to medium low, and cover the pan.  The goal here is to brown the bread without burning the raisins. Fry the sandwich for about 1 minute (check to make sure the bread toasts but doesn't burn).  When the bread on the bottom is brown, flip the sandwich and cook for 1 minute (covered) on the other side.  When both sides are toasted, transfer the sandwich to a microwavable plate.
Open the sandwich and add the pre-heated sauerkraut. Close the sandwich.
Microwave the sandwich for 1 minutes until the cheese melts.  (Adding the microwave step is the key to melting the cheese when using gluten free bread). Slice the sandwich in two pieces and serve!
Make sure that all your ingredients are gluten free!