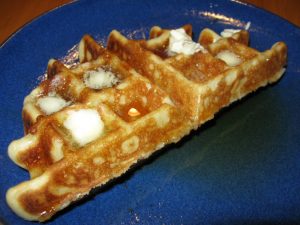 In October of 2005 I shared excellent pancake and waffle recipe with you all. Buy some frozen blueberries and real dark maple syrup before you read any further.  In 2012 it is updated to include information about our favorite waffle iron – we have no commercial affiliation with Nordic Ware by the way, we just like their stove-top waffle iron better than any of the electric models we have tried over the years..
This recipe works with buttermilk as well – for the pancakes.  It makes the best waffles if you stick with almond milk as the liquid.
Mix in bowl:
1 cup brown rice flour
1/2 cup potato starch flour
1/4 cup tapioca flour
1/4 cup cornstarch
1 Tablespoon GF baking powder
1 Tablespoon sugar
1/2 teaspoon salt
In another bowl:
1 1/2 cups almond milk
3 eggs
4 Tablespoons vegetable oil
Stir the two mixtures together. Heat a non-stick pan on medium, add
butter or margarine. When pan is hot, pour batter to form pancakes (1/2
cup makes a beautiful big pancake), sprinkle with frozen blueberries.
Wait until the bubbles that form in the pancake start turning into holes
(if you don't wait long enough the pancake will be hard to turn) but not
so long that the pancake burns, then flip. When other side is cooked,
transfer to plate and serve with real maple syrup – use the Grade B syrup which has the most flavor…
To use this recipe for waffles, use only 2 eggs and add another
tablespoon of oil. Omit the blueberries. Waffles take 4-6 minutes to cook.
Update in 2012 For best waffle results, try a Nordic Ware stovetop waffle iron – the belgian waffle type – and brush it lightly with vegetable oil before heating.  You have to practice with these waffle irons a few times to get it right. On our stove you heat it on medium high for three minutes, then flip it and heat the other side for 3 minutes. Then, you open it, pour in one and a half cups of batter, close it and cook for 1 minute, then flip and cook for 2 minutes.  That makes the perfect waffle in the photograph.
If you are serving food to gluten-free friends, check carefully with the manufacturers, or on the reputable internet-based gluten free food lists, to make sure that all ingredients are gluten free. Or, ask your friends which brands are safe for them to eat.
1