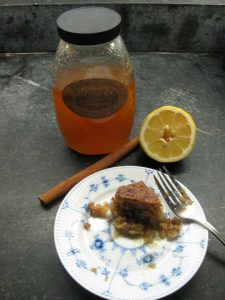 This outstanding dessert is a seriously sweet, robust cinnamon-clove flavored cake soaked until wet with a honey-lemon syrup.  The cake tastes like baklava, and is served cold, with whipped cream if desired.
Originally, this dessert is made with Cream of Wheat. Gfzing.com has adapted it to be gluten free, replacing the Cream of Wheat with Cream of Rice and cornmeal. The recipe is from Rose Baboian's Armenian-American Cook Book, published in 1964. The book seems to have its own Facebook page now, and is available for sale here: http://www.stvartanbookstore.com/browseproducts/Armenian-American-Cookbook–hc.html.  Similar recipes for cereal cakes abound around the internet, with Greek, Lebanese etc. variations.
Make this cake by hand, for aerobic exercise.
If you are making this in a wheatavore kitchen, bring in your own sugar or make sure that their sugar does not have remnants of wheat flour from wheatavore cooks using the same measuring cup for flour and then for sugar.
Grease and 8×8 pan or 9×9 pan well, using the wrapper from your butter.
Preheat oven to 350.
Cream together:
10 TB salted butter
3/4 cup white sugar
1/2 cup dark brown sugar
1/2 teaspoon cinnamon
1/2 teaspoon cloves
Add and stir to incorporate:
1/2 cup dry uncooked Cream of Rice cereal
1/2 cup cornmeal
1 teaspoon baking powder
3/4 cup finely chopped walnuts
3/4 cup shredded coconut
Add and stir to incorporate:
Add one at a time and stir til well mixed:
Pour in to the greased pan and spread out to distribute evenly.  Bake at 350 degrees, 45 minutes for 8×8 pan, 35 minutes for 9×9. A knife inserted in the cake should come out clean.  Take the cake from the oven, hold it ten inches above the counter and drop the pan straight down on the counter to settle the cake.  The cake should be top side up, still in the pan – you are just settling it, not removing it from the pan.
Make a syrup of
1 cup white sugar
1 cup water
Bring to a boil, then add
1 Tablespoon honey
1 soup spoon of fresh lemon juice
Pour the hot syrup evenly over the cake. Cover the pan and let sit until room temperature, then chill until cold. Cut into squares. The syrup will settle to the bottom of the cake, leaving that part sort of  "juicy."
Use all gluten-free ingredients!