After three days of recovery from the delicious Thanksgiving feast, we want a GF salad!  This one from www.gfzing.com has lots of vegetables and fruits, with a little cheese and nuts.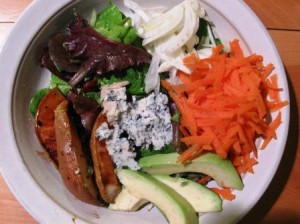 A composed salad of the following ingredients fits the bill exactly:
2 Roasted Pears (recipe is below)
1/2 Avocado, peeled, pitted and sliced
1/2 bunch Fennel, sliced or shaved
2 ounces Goat Cheese or gluten free blue cheese, chunked (optional)
2 TB sweetened dried cranberries or raisins (gluten free)
1/3 cup Candied Nuts
6 cups Salad Greens, washed
1 Carrot, grated
1 recipe Tangerine Dressing
Roasted Pears: wash 2 unripe (hard) Bartlett pears, remove the cores and cut them in to 8 pieces, stem-to-blossom end.  No need to peel them. In a small bowl, mix 1/4 cup pure Grade B maple syrup (or Grade A Dark Amber) and 1 TB minced fresh ginger (optional).  Combine the pear slices with this syrup mixture, then spread the pear slices on a foil or parchment paper-lined baking sheet.  Sprinkle with salt and pepper.  Bake at 500 degrees for 15 minutes.  Turn the slices over and bake an additional 5 minutes if desired.  You cannot use a silpat lined pan for this process because the oven temperature exceeds the heat tolerance of silpat.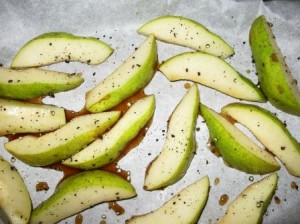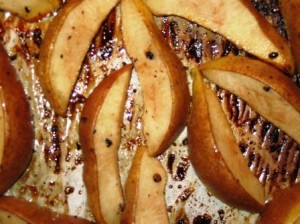 Avocado: Peel, pit and slice 1 ripe avocado, then mix the slices with the juice of a lemon or tangerine.  The citric acid in the fruit juice will keep the avocado from turning brown.
Candied Nuts: Mix walnut meats, pecans or almonds with 2 TB granulated sugar.  Place in a small frying pan and fry over medium heat for about 5-10 minutes, stirring constantly, until the sugar melts and begins to caramelize, sticking to the nuts.  Remove the nuts from the pan at this point and place on a parchment paper-lined plate to cool.  Separate the nuts so they don't form one big nut mass.
Assemble the salad – Gfzing.com recommends that the greens, fennel, grated carrot, and cranberries or raisins can be tossed with the dressing.  On each individual salad plate, gently arrange the avocado slices, pear slices, candied nuts and optional cheese on top of the dressed greens.  Don't try to toss avocado slices with the salad – disaster that way lies!