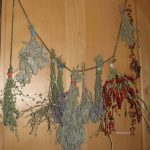 Once again, Gfzing.com cracked the binding on a bunch of cookbooks to find a tasty gluten free poultry seasoning for the Thanksgiving turkey stuffing.  We looked through the usual suspects, those older books that included formulas for standard seasonings and came up empty! Then, on an old bottle marked "poultry seasoning," we found a typed list, taped to the bottle.  The ingredients are listed below.
The herbs and spices for poultry seasoning are similar in all  formulations, it is just the proportions that change. The sage and thyme should predominate.  Some poultry seasoning recipes include nutmeg, and some include celery seed.
We dried the herbs from our garden, at the end of the fall, by hanging them upside down in the kitchen to dry.  If you don't have home-dried herbs, you can use bottled herbs.
2 parts dried sage
3/4  part dried rosemary
1 part dried marjoram
1/2 part ground black pepper
1/2 part grated nutmeg
1  1/2 parts dried thyme
These ingredients are listed in "parts" – you can substitute teaspoon or Tablespoon for "part" in the recipe, depending on how much poultry seasoning you want to make.  You can assemble all of these in a large, stone mortar and pestle and grind them quickly to a fluffy powder. It is the sage that adds the fluffiness to this preparation.