This delicious, intensely-flavored banana bread is baked with brown rice flour sourdough, cinnamon and brown sugar.  It stands up to a good buttering!
Here is a real, honest picture of this bread, highlighting the banana elements.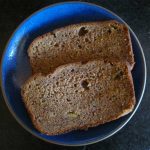 First, make a gluten free sourdough starter according to this recipe http://www.gfzing.com/2011/gluten-free-sourdough-starter-and-pancakes/.  Then, the night before you want to make banana bread,  make a brown rice flour Overnight Sponge using 1 cup of brown rice flour and 1 cup of water, added to your starter.
Next day:
Preheat oven to 350 F degrees
Line a 9×5 loaf pan with parchment paper – use one large piece of paper and fold at the corners so that no part of the inside of the pan is showing
Ingredients:
1 cup gluten free sourdough Overnight Sponge (return the rest of the sponge, covered,  to the refrigerator – that will be the "starter" for the next project)
1/2 cup white sugar
1 cup dark brown sugar
1/2 cup melted butter
2 eggs, beaten
1/2 teaspoon salt
1 cup mashed banana (about 2 bananas)
1 teaspoon gluten free ground cinnamon
1 teaspoon baking soda dissolved in 1 teaspoon water
1 1/2 cups finely ground brown rice flour mixed with 1 teaspoon xantham gum
Mix all ingredients up through the cinnamon, then add the baking soda mixture, then the rice flour mixture.  Stir thoroughly – the mixture will stiffen as you stir.  You can add raisins if desired.  Spoon mixture in to lined pan and bake 1 hour at 350.
When the bread is done, remove the pan from the oven, lift the pan up about 10 inches above the counter and drop the pan straight down – that's right – drop the pan on the counter top, bottom side down of course.  This action will prevent the bread from falling. Cool ten minutes in the pan, then lift up the parchment paper to remove the bread from the pan to cool the rest of the way.
0