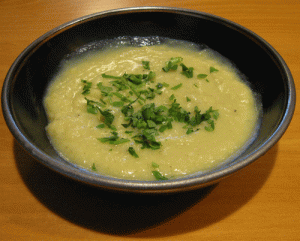 This is an easy, vegetarian gluten free soup from the website gfzing.com to serve as a first course or as a main course with an accompaniment of gluten free toast or scones.
It is delicious!
In a large pot, place 3 leeks, cleaned, trimmed and chopped, 5 Red Bliss potatoes, peeled and cut in half, and about a third of a head of cauliflower, cleaned and cut in to flowerets.
Pour in water to cover (6-8 cups), add 2 teaspoons of salt and bring to a boil, turn down to a simmer and cook until the potatoes and cauliflower are tender, about 20 minutes.  Add 2 tablespoons of ghee (clarified browned butter) and a 1/2 teaspoon of freshly ground pepper, then puree the soup carefully using an immersion blender stick until it is velvety.  If you do not have an immersion blender, use a regular blender or food processor, being careful not to burn yourself with the hot soup.
Note:  If you are a wheatavore serving a gluten-free diner, make sure to use plain fresh water to make this soup. Don't use water that was just used for cooking pasta, for example.
Test the soup for salt and balanced flavors, then serve sprinkled with a little chopped parsley if you have some.
It would be fine to substitute other vegetables for the cauliflower – for example: carrot,s sweet potato, broccoli, peas, spinach etc.
Make sure all the ingredients are gluten free.
0